Plug Mounted Electrodes: 1 Silver and 1 Copper
2 mm thick
1 Silver and 1 Copper Electrode mounted on screw-in plug.
We supply this electrode set to a dolphin aquarium to be able to adjust the ratio of each metal.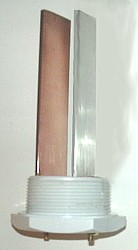 1 Silver and 1 Copper Electrode for precise ionic balance for marine biology, fish farms.
Order by Phone or Online
We find that many customers would prefer to call us for help in selecting the best products to suit their needs. Please feel free to contact us by phone or email or use our easy Online Order Form.
Phone:
289-389-9773
Toll Free:
1-800-488-2032
from Canada, US and Territories
E-mail:
info@biophysica.com
Product Profile