Each channel cylinder can be multiplied up to six times.
Each cylinder can accept 14 inch long pair of electrodes of any metal.
Metal electrodes can be silver, gold, zinc, copper, magnesium, iron, tin, platinum, titanium, etc.
Controller box has 6 separate controls. One for each metal pair.
Six channel copper manifolds (2) on input and output of each cylinder have valves.
Electrodes are mounted on quick-relase adapters for easy inspection and cleaning.
Single channel cylinder with quick-disconnect adapter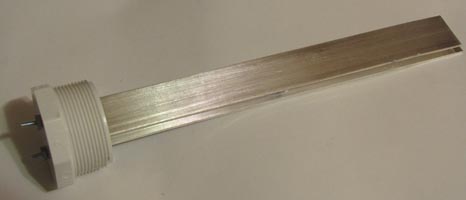 14 inch long pair of silver electrodes
6 channel manifold with valves. One for input and one for output.
6 channel controller allows independent ppm & nanometre size control over each electrode pair.